Field Day

Field Day - July 24, 2019
Registration link - https://commerce.cashnet.com/UARKTURF
The University of Arkansas will host a Turfgrass Field Day on Wednesday, July 24, 2019. The field day will be located in Fayetteville at the Agricultural Research Center. The field day provides individuals the opportunity to hear the latest up-to-date information about new products and research studies as well as providing an opportunity to network with others in the turf industry and visit with vendors at the trade show. Lunch, a hat and an information packet are provided.
Tentative Schedule of Events
Registration, Trade Show, and Breakfast - 7:00-9:00 am
Opening Remarks - 8:40-9:00 am
Research Tours for Golf, Sports Turf, and Lawncare groups - 9:00-11:30
Lunch, Trade Show, and Equipment Demo - 11:30-1:00
Pesticide re-certification - 1:00-3:00 (pesticide re-certification requires attendance to entire event)
Attendee Registration
Registration is now open. On-line pre-registration will be available here. You may register on site, beginning at 7:15 am on July 24, 2019 ; however, we can only guarantee meals, hats, and programs for those who pre-register.
For those who need to mail in a check for payment, please click the link below for a PDF version of the registration form. Send payment to:
University of Arkansas
Attn: Shelby Hanson
Dept. of Horticulture
PTSC 316
Fayetteville, AR 72701
PDF Registration form
Research Tours
Turfgrass research tours will be available for Golf, Lawn care/landscaping, and Sports turf. Click here for more information on the speakers at this year's field day.
Tentative tour schedules for 2019 University of Arkansas Turfgrass Field Day

Golf

Lawncare

Sports turf

Lee Butler – fungicide programs for bentgrass greens in the transition zone

Tyler Carr - Water use of cool-season lawn grasses

Pat Berger - Tour of Razorback Athletics

John Boyd/Matt Bertucci - Weed control options and post crabgrass control

Mike Richardson - Plant growth regulators and mowing management

Jay Randolph/Michelle Wisdom - Native plants and pollinators

Lee Butler - Disease diagnostics and effects of rain on fungicides

Daniel O'Brien – Does your golf course need a drone?

Doug Karcher/Matt Bertucci – Herbicides and buffalograss establishment (pylex/roundup)

Doug Karcher - GCSAA wetting agent talks

Jon Zawislak - Best management practices to protect pollinators in landscapes

Eric Deboer - Nanobubbles

John Boyd/Matt Bertucci - Weed control options and post crabgrass control

Jason Davis - Applicator issues/sprayer technology

Jason Davis- Applicator issues/sprayer technology
Trade Show
Exhibitors from the turfgrass industry will be present at the trade show. A trade show registration form will be available here. Trade show exhibitors may also register by calling Shelby Hanson at (479)575-6680. Please note she cannot take credit card payments over the phone.
Current List of Vendors for Trade Show:
Trade Show Area Map: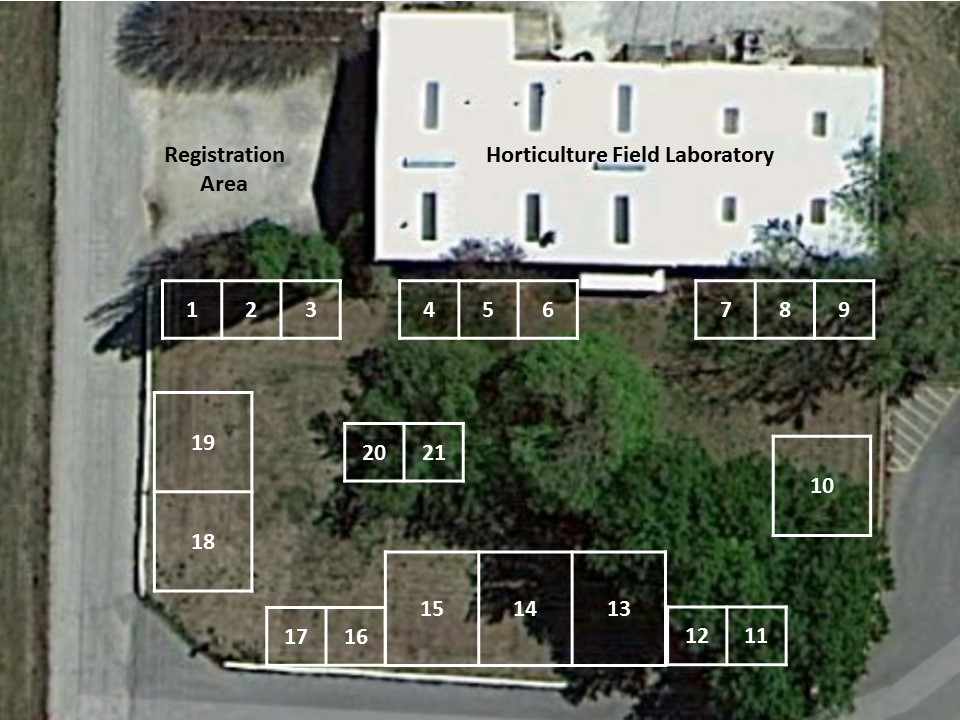 Driving Directions to Field Day
Directions and map to UofA Field Day may be downloaded here.